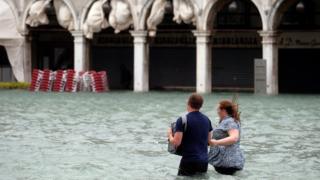 Italy has been battered by fierce winds and rain which have left at least eight people dead across the country, while schools and tourist sites closed in several regions amid fears for peoples' safety.
In the canal city of Venice, rising floodwaters have overwhelmed many of its famed squares and walkways, with officials saying as much as 75% of the city is now submerged.
Venice's central St Mark's Square was closed on Monday afternoon, after the water level reached "acqua alta" (high water) of 156cm (5.1ft). It is the fourth highest level ever recorded.
And yet, many people – tourist and locals alike – appeared determined to forge ahead with business as usual.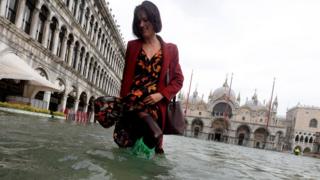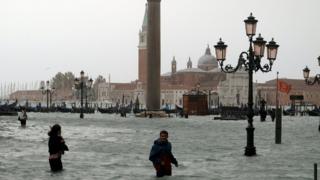 Some people took to the raised wooden walkways that are installed when there is flooding.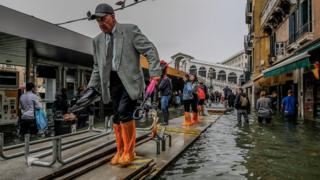 Others, including tourists, donned thigh-high wellies or took off their shoes to wade through the water.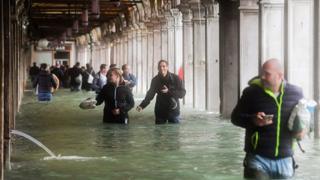 Shopkeepers worked to try and keep the water away from their stock.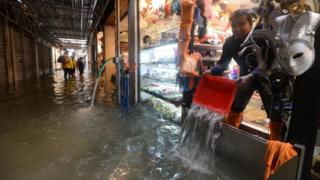 With Venice, and the wider Veneto region, now on red alert, residents are being urged to prepare for major disruption to transport and infrastructure.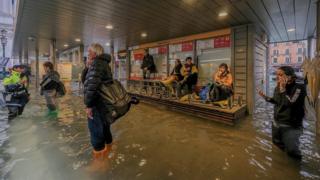 Meteorologists are warning that the bad weather will continue.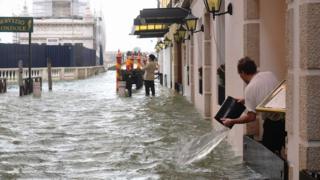 All pictures copyright


Source BBC News