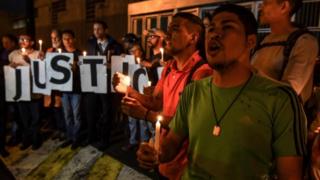 Protesters in Venezuela have accused the government of murdering a jailed opposition lawmaker, who the authorities say killed himself.
Crowds were calling for justice at a rally outside the Sebin intelligence agency headquarters in Caracas where Fernando Albán had been held.
The authorities say he took his own life by jumping from the 10th floor.
He had been held over what officials say was a drone assassination attempt on President Nicolás Maduro in August.
This happened Mr Maduro was speaking at a military event in the capital. Seven soldiers were injured, officials say.
How did Fernando Albán die?
Attorney General Tareq Saad told Venezuela's VTV state television that the lawmaker "requested to go to the bathroom, and when there he threw himself off the 10th floor".
Meanwhile, Interior Minister Nestor Luis Reverol gave a somewhat different account of what happened on Monday.
He tweeted (in Spanish): "At the moment he was going to be transported to court, while he was in the Sebin waiting room, he jumped from the window of the building and fell, causing his death."
The minister also said the lawmaker had been investigated for "destabilising activities directed from abroad".
Mr Albán was a Caracas municipal counsellor for the opposition First Justice party.
In a statement, the party said their member "was murdered at the hands of the regime of Nicolas Maduro".
Enrique Capriles, also a party member and a former presidential candidate, was quoted as saying by AFP: "Those of us who knew Fernando know that he could never have acted against his life,"
Reacting to the news, US Senator Bob Corker tweeted: "Today in Venezuela, Fernando Albán, a young opposition leader, died while in the government's custody. This is disturbing and the government has a responsibility to ensure all understand how that could have happened.




Source BBC News