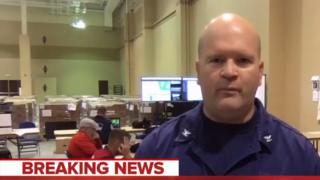 The US Coast Guard says it has "removed" a member of its tropical storm Florence response team from duty after he was accused of making a "white power" sign live on air.
The unidentified team member glanced at the camera before briefly making the hand gesture, provoking a social media backlash.
He was seen sitting at a desk in the background as MSNBC interviewed Coast Guard Commanding Officer Capt John Reed in Charleston, South Carolina, on Friday night.
The agency responded swiftly to the ensuing outcry.
"Whatever that symbol means, it doesn't reflect the Coast Guard and our core values," Coast Guard Lt JB Zorn told NBC News.
"It won't be tolerated."
The Coast Guard tweeted that it was aware of the "offensive video" and was investigating the matter.
In a statement, the agency said it was a "frustrating distraction" from its response to the deadly tropical storm drenching the Carolinas.
A number of Twitter commentators were in no doubt about the nature of the momentary hand gesture.
One user, @jgobble, tweeted: "Did you all see this guy flash White Power on TV? OUR OWN COAST GUARD!!! This needs to be investigated and this man needs to be ousted/removed/discharged!"
Another, @OKCopyThat, posted: "That was flat out blatant! Lord have mercy on us. These evil people are among us."
Yet another, @TomAmestoy, tweeted: "The Coast Guard is filled with heroes and apparently at least one racist bringing shame on an honorable crew."
But not everyone was convinced.
One Twitter user, @Dpatcorb, said: "Bahahahahaha. You seriously have the mental capacity of a 2 year old if you think that's a white power sign."
It is not clear how the thumb-and-forefinger 'OK' hand gesture became associated with "white power".
It apparently began as an online hoax before it was adopted by far-right sympathisers and even some Trump supporters to goad liberals.
Earlier this month, left-wing activists accused a former Trump administration official of making the symbol during a Senate hearing.
Zina Bash was pictured sitting in the background during a confirmation hearing for Supreme Court nominee Brett Kavanaugh.
Ms Bash, who is of Jewish-Mexican heritage, was branded a "neo-Nazi" or "white supremacist".
Her husband, Texas prosecutor John Bash, angrily pointed out his wife is the grandchild of Holocaust survivors.
"Everyone tweeting this vicious conspiracy theory should be ashamed of themselves," he said.
"We weren't even familiar with the hateful symbol being attributed to her for the random way she rested her hand during a long hearing."




Source BBC News