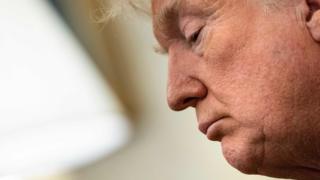 Supporters of US President Donald Trump have turned on him after he was denied a possible last chance to secure funding for his planned border wall.
Late on Wednesday, the US Congress approved a bill to keep federal agencies funded until February,
The Republican president was foiled in the Senate by members of his party, who refused to grant him any of the $5bn (£4bn) he wants for a US-Mexico wall.
Two years on, Mr Trump has been unable to deliver on his key campaign promise.
What's happening on Capitol Hill?
Congress faces a Friday midnight deadline for averting a partial shutdown of the federal government because they cannot agree a spending plan.
Because of the political gridlock, the Senate has only been able to approve a seven-week extension of existing funds.
The House of Representatives is expected to act on the legislation later this week.
President Trump was quick to voice his displeasure, saying on Twitter on Thursday that he would not sign any bill that does not include the wall.
But he has repeatedly threatened to shut down the government unless funding for his wall is included in budget bills, only to sign the spending legislation once it reaches his desk.
What's the reaction?
Members of the ultra-conservative House of Representatives Freedom Caucus were up in arms.
North Carolina congressman Mark Meadows, a key Trump supporter, said: "He [Trump] campaigned on the wall.
"It was the centre of his campaign. The American people's patience is running out."
He called on the president to veto the bill and renegotiate.
Ohio congressman Jim Jordan noted in exasperation that plans to build a wall will only get more difficult from next month once Democrats become the majority in the House.
"Let me get this straight," Mr Jim Jordan tweeted. "Our chances of getting the Wall will be better in February when Nancy Pelosi is Speaker than now when we have the majority?"
"Give me a break."
Mr Trump's key conservative supporters in the media were also up in arms.
Breitbart News called it a "cave". The Drudge Report used the headline, "Trump in Retreat".
Radio host Rush Limbaugh said Mr Trump is going to "get less than nothing".
Right-wing columnist Ann Coulter – author of In Trump We trust – recently opined that the president will not be re-elected without a wall.
"Without a wall, he will only be remembered as a small cartoon figure who briefly inflamed and amused the rabble."




Source BBC News