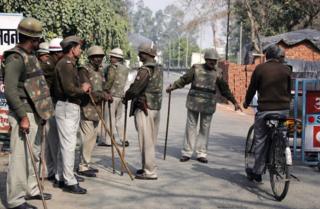 A series of alleged extra-judicial killings by police in the northern Indian state of Uttar Pradesh has raised serious concerns about its force. Sharat Pradhan and Nitin Srivastava report for the BBC.
"I got a call from the police at around 6.30am, asking if I wanted to film a gun battle going on with two criminals," says a TV journalist from Aligarh, a city in Uttar Pradesh, who has requested anonymity.
He rushed to the spot, where to his surprise he was joined by several other journalists brandishing mics and cameras.
Together, they filmed a scene that could have been out of a Bollywood film.
Live images beamed across most of India's national television channels showed policemen armed with sophisticated assault rifles, kneeling behind thick bushes and firing at a bungalow.
It's reasonably clear from the video footage that only the policemen are doing any firing.
This goes on for about 30 minutes before police enter the bungalow. The video ends here. The journalists invited to film the scene were apparently not allowed to film the removal of the bodies of the two "criminals" who had been killed.
Police say that the two men who died in the "shoot-out" were fugitives on the run after an investigation established their involvement in the murder of six people, including two Hindu priests, over the last month.
They say the two men had been spotted riding a stolen motorbike and had run inside the bungalow after being asked to stop at a checkpoint.
But the families of the men, identified as Mustakeem and Naushad, allege they were tortured and killed in custody, and the police covered it up by staging the gunfight.
Naushad's mother Shaheen told BBC Hindi: "I clearly remember it was 16 September when I returned from the fields to find my daughter weeping, surrounded by neighbours. Police took away my son and my son-in law after thrashing them mercilessly for no reason."
Her story was confirmed by neighbours in the area who say they saw policemen – some dressed in civilian clothes – enter the house, drag out the two men and start beating them before bundling them into a van and driving away.
The shootings led to huge criticism of the police force, with questions being asked about whether the "gun battle" was really a front for extra-judicial executions.
Then 10 days later, the Uttar Pradesh policemen were in the headlines again.
Thirty-eight-year-old Vivek Tiwari, a regional sales manager for Apple, was shot dead at a police checkpoint while returning home in Lucknow after a launch for the new iPhone.
He had reportedly disobeyed an order to stop, leading one of the policemen to shoot him in the face through the windscreen of his vehicle.
The officer in question, Prashant Chaudhary, said he had fired the gun in "self-defence" after Mr Tiwari tried to run him over – an explanation that was at the time readily accepted by his senior officers.
But amid mounting outrage over the incident, pressure grew on the authorities to take action.
India's Home Minister Rajnath Singh made a phone call to the state's Chief Minister Yogi Adityanath, asking him to investigate. Mr Chaudhary was suspended, along with another colleague. Mr Tewari's family was awarded compensation of four million rupees ($54,492; £42,020).
However, Mr Chaudhary has been unrepentant. Along with his wife, who is also a police officer, he has been appearing on television channels defending his actions and criticising his superiors for suspending him.
Other junior police officers have also been posting messages on social media, "warning" of a repeat of an infamous police revolt in 1973.
And these are not the only incidents of lethal use of force in the state.
A few months ago, a 12-year-old boy was shot dead by an off-duty officer – police say the boy simply stepped on his foot during a wedding ceremony. And in February, a gym trainer was killed by a sub-inspector after a personal dispute.
"Such aberrations always happen, but there needs to be some deterrence. The guilty policemen should be publicly paraded in handcuffs," former state director general of police RK Pandit told the BBC, while recalling how he had handled a similar case earlier in his career.
He also questioned a decision to issue pistols to constables instead of the traditional rifles. Earlier, only sub-inspectors or higher-ranking officials could carry pistols.
This rule was changed in 2013, as it was thought rifles were too cumbersome to be carried on motorcycles.
Another former police director general, Vikram Singh, says the original state police manual specified very strict preconditions for issuing officers with weapons.
"If these norms are overlooked or altered for whatever reason, then handing over a weapon to an officer is practically giving him a licence to kill. I'm sure that recent Bollywood blockbusters which have glorified vigilante police officers also legitimises their urge to shoot first and think later," he said.
All the police officers caught up in the most recent incidents also have one thing in common. They all entered the force during a highly controversial mass recruitment which saw at least 32,000 cadets inducted under the previous state government.
The drive was marred by allegations of corruption and bribery. Subsequent inquiries showed that hundreds of the new recruits had faked their educational certificates.
What was worse, many police sources say the men were given barely any training.
A top police official who requested anonymity said: "The usual training period of nine months was cut down to six months due to shortage of space in the training establishments. And even this was carried out with so much haste that many benchmarks laid down in the police manual were bound to be compromised.
"A gun in the hands of a poorly trained officer, whose credentials are in doubt from the day of his recruitment, could easily lead to disaster."
Another major factor was the present state government giving policemen a free hand to "eradicate" crime in the state.
This has resulted in a massive upsurge of "encounters" – a commonly-used police term for alleged gun battles with criminals.
More than a 1,000 "encounters" were recorded by the state's police in the first year since Uttar Pradesh's new chief minister came to power in March 2017.
Many of them have turned out to be small-time petty offenders, who were killed usually just days after the announcement of "rewards" for their death or capture.
Many have also asked how not even one policeman has been killed or seriously injured in so many "encounters".
The BJP-led state government has defended the police.
"When criminals are firing at the police, what can they do? Police have to fire in defence. I am committed to providing security to every citizen of Uttar Pradesh, and criminals will have no place in my state," Yogi Adityanath said at the Hindustan Times Summit in Delhi last November.
"If a criminal is openly killing people he has to be punished. Everybody has a right to live, but if somebody decides to take the right away from a person, he should be given the same treatment," he said the same year.
And despite all the recent outrage, police authorities also show little willingness to change.
"Encounters", the state's police chief OP Singh said recently, "are part of crime prevention. The fact is that this is a not a state policy, but a police strategy. We do not call it 'encounter' but 'police engagement'. We are engaged with the criminals in a very professional and strategic manner."


Source BBC News