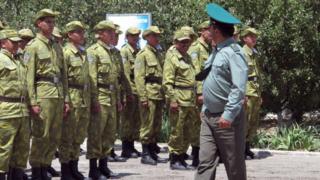 The Tajik army has completed its autumn conscription campaign in record time, amid reports of men being forced to join up – including a 62-year-old out for an evening stroll.
Spokesman Orif Nozimiyon told the ASIA-Plus news site that the draft was completed eight days short of the 30 November deadline, and boasted of a record number of volunteers this year.
Military service is nonetheless unpopular, as conscripts often complain of poor conditions and bullying.
There are regular reports of recruiting officers bundling men into vans at markets and street corners, so the defence ministry has been at pains this year to say it will instead appeal solely to patriotism, the Prague-based Akhbor news site reports.
"Defence ministry representatives assured everyone before the autumn draft began that there is no need to round people up, and the campaign will be conducted in a fully legal fashion," Akhbor says.
'Sole bread-winner'
According to Akhbor, Firuz Tabakov, a Russian-language teacher in Rasht District, was picked up from his school and taken straight to an army unit near the capital Dushanbe, even though village teachers have been exempt from the draft since the early 2000s.
His family told Akhbor that his wife, child, parents and grandfather have lost their sole bread-winner, and the school is still without a Russian teacher.
You may also be interested in:
Tajik mosques repair Lenin statue
Tajik book tells women how to dress
Russian child gets army call-up papers
Even more unusual is the story of Bobomurod Rajabov, a 62-year old man who says recruiting officers tried to force him into a vehicle in his hometown of Vahdat near Dushanbe.
He told the SSSR weekly newspaper that they swore and beat him up, saying "Why are you dodging military service? Why are you not serving?", despite his protests that he was old enough to be their father.
Mr Rajabov thinks that they mistook him for a youth in the evening light until they knocked his hat off and realised their mistake.
He reported the incident to the police the following day, but said they declined to act on it. "If the treat an old man like this, imagine what they do to young conscripts," Mr Rajabov told SSSR.
'No conscripts – no electricity'
The Lakhsh District authorities in the east of the country were reportedly so incensed when a group of villages failed to produce a single recruit that they ordered the local power supplier to cut off their electricity.
"The power was cut for about 10 days, and the authorities told us bluntly – you will have no electricity until you send a conscript to the armed forces," one resident of Kushaghba village told Radio Liberty's Tajik service.
The current is now flowing again despite the absence of any new conscripts from the district, as the villagers say all the men of draft age either have a college exemption or are "away working in Russia".
Reporting by Martin Morgan
Next story: Siberian mayor swaps cars for care
Use #NewsfromElsewhere to stay up-to-date with our reports via Twitter.




Source BBC News