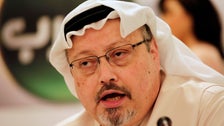 The missing Saudi journalist and U.S. resident Jamal Khashoggi was killed inside a Saudi consulate in Istanbul, Saudi Arabia admitted in a dead-of-night statement from a prosecutor early Saturday.
Saudi authorities released results from what they claimed was an initial investigation, saying that Khashoggi was killed after a discussion turned into a fight during his visit to the consulate.
In response to their alleged findings, Saudi King Salman has dismissed Major General Ahmed al-Assiri, an adviser to the crown prince. A Saudi prosecutor also announced the arrests of 18 people linked to the death.
Intelligence gathered by the U.S. and allies ― in addition to clues pointing directly to the regime ― make it unlikely the statement will fully quell worldwide outrage over the kingdom's treatment of Khashoggi and questions about whether the West is complicit in massive human rights violations.
Saudi Arabia's acknowledgment of Khashoggi's death comes after The Washington Post reported on Oct. 10 that Saudi Crown Prince Mohammed bin Salman had personally ordered an effort to lure the journalist back to Saudi Arabia. Officials in multiple countries had speculated at the time that the plan to capture Khashoggi may have gone awry, leading to his killing.
Khashoggi disappeared on Oct. 2 after entering the consulate to obtain a document he needed to marry his fiancée. The journalist, who was once close to the Saudi royal family, had become critical of the repression of human rights activists under the crown prince. He had been living in self-imposed exile in Washington, D.C., for the past year and was a columnist for The Washington Post.
News of Khashoggi's disappearance emerged after his fiancée, Hatice Cengiz, told friends she waited outside the consulate for nearly 12 hours and didn't see him exit the building. She returned the following day, and there was still no sign of him.
Saudi leaders initially maintained Khashoggi had left the premises on foot shortly after retrieving the marriage document but didn't provide surveillance footage to back up the story.
Turkish officials launched an investigation and demanded the Saudi government release additional evidence to support its claim that Khashoggi left the consulate alive.
Fifteen Saudi officials and intelligence officers arrived in Istanbul on two private jets on the day of the journalist's disappearance. Both planes were operated by Sky Prime Aviation Services, a company frequently used by the Saudi government. Some of the officials were transported in a tinted van to the home of the Saudi consul general, and all of them later left the country on planes departing for Cairo and Dubai. Turkish staffers at the residence were told to take that day off.
Turkish officials, who remained anonymous, told The New York Times and Reuters they believed Khashoggi was assassinated under orders from the Saudi royal court and that the 15 officials flew into Istanbul that day to carry out the operation.
"I have left my home, my family and my job, and I am raising my voice," he wrote in September 2017. "To do otherwise would betray those who languish in prison. I can speak when so many cannot. I want you to know that Saudi Arabia has not always been as it is now. We Saudis deserve better."
Carla Herreria and Akbar Shahid Ahmed contributed to this report.




Source HuffPost