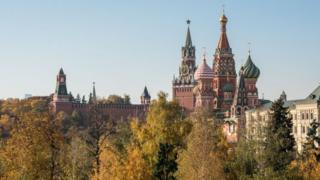 The US government has charged a Russian woman for her role in a Kremlin-backed campaign to influence the US mid-term congressional elections next month.
The criminal complaint against Elena Alekseevna Khusyaynova, 44, was revealed by the US Department of Justice on Friday.
It marks the first foreign meddling case in the forthcoming US elections.
Officials say she was the chief accountant for a project to "sow discord in the US political system".
The charges allege Mrs Khusyaynova – who lives in St Petersburg – continues to engage in "information warfare against the United States" by managing a so-called troll farm which posts inflammatory content online.
"The strategic goal of this alleged conspiracy, which continues to this day, is to sow discord in the US political system and to undermine faith in our democratic institutions," US Attorney Terwilliger said in a statement.
She is charged with conspiracy to defraud the US.
Mrs Khusyaynova is accused of running a programme called Project Lakhta, in which her team created online arguments and misinformation to spark division among Americans.
The programme allegedly used social media and other platforms to discuss topics including immigration, gun control, gun rights, the Confederate flag, race relations, LGBT issues, the Women's March and the NFL national anthem debate, according to the justice department.
Project Lakhta has a budget of $35m (£27m), but not all of their projects is directed at the US, according to officials.
US authorities say their "activities did not exclusively adopt one ideological view; they wrote on topics from varied and sometimes opposing perspectives".
"Members of the conspiracy were directed, among other things, to create 'political intensity through supporting radical groups' and to 'aggravate the conflict between minorities and the rest of the population'."
The conspirators also "took extraordinary steps" to appear as American political activists, officials say, by creating "thousands of social media and email accounts" that gave the illusion that they were operated by US citizens.
The charges come as White House National Security Advisor John Bolton is due to meet Russian Foreign Minister Sergei Lavrov in Russia.
It also comes as the Office of the Director of National Intelligence warned that it was concerned about "ongoing campaigns" by Russia, China and Iran to interfere in the mid-term elections on 6 November.
FBI Director Christopher Wray said that the case "serves as a stark reminder to all Americans: Our foreign adversaries continue their efforts to interfere in our democracy by creating social and political division, spreading distrust in our political system, and advocating for the support or defeat of particular political candidates."


Source BBC News