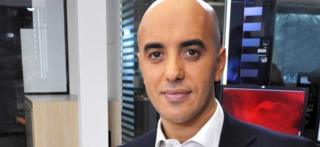 Redoine Faid, the French gangster who broke out of jail using a hijacked helicopter in July, has been recaptured, police sources say.
He was detained in Creil with three other men, one of whom was his brother.
Faid has called himself a huge fan of gangster films, which he credits with teaching him how to pull off extravagant heists.
First arrested in 1998 for armed robbery, the July jailbreak was the second time he had escaped from prison.
Who is Redoine Faid?
Faid, aged 46, is on-the-record about his love of Hollywood heist movies, saying they inspire some of his schemes.
He once approached director Michael Mann – who made the film Heat – at a Paris film festival and told him: "You were my technical adviser."
In 2013, he escaped almost immediately after arriving at Séquedin prison, using explosives to blast his way through five prison doors while holding guards hostage as human shields.
His fame has also been helped by his 2009 book, outlining his younger days on the streets of Paris and his descent into the life of a professional criminal.
That earned him the nickname "L'Écrivain" – or "the writer" – among French police.
Timeline of a jailbreaker
Faid's cycle of imprisonment and escape began with his arrest in 1998 on multiple counts of armed robbery and bank theft.
In 2009 he was freed on parole, swearing that he was a changed man – but by 2011, he had breached his terms of release and was back behind bars.
In 2017, Faid was sentenced to 10 years' imprisonment for his 2013 jailbreak from Séquedin prison, outside Lille. He was also given 18 years for masterminding a 2010 robbery in which a young policewoman, Aurélie Fouquet, was killed.
Faid mounted a failed appeal, and in April 2018 was given a heavier sentence of 25 years for the botched robbery. He was serving that term at the time of his latest escape.
Born in 1972, he grew up in a notoriously rough part of Paris.
In the 1990s, he ran a gang involved in armed robbery and extortion in the French capital. He has said his lifestyle was inspired by Hollywood gangster films, including the Al Pacino thriller Scarface.
One of Faid's most recent prison supervisors said he was never in conflict with guards, but that "we must always be wary".
"In the corner of his mind, he never lost the idea of escaping. Behind all his manners – he is very polite – he always hid his game," the supervisor said.


Source BBC News