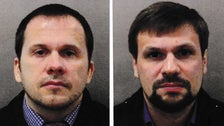 MOSCOW (AP) — President Vladimir Putin said on Wednesday that Russia has identified the two men that Britain named as suspects in the poisoning of a former Russian spy, and that there is "nothing criminal" about them.
Britain last week charged two alleged agents of Russia's military intelligence agency in absentia with the poisoning of former Russian spy Sergei Skripal and his daughter Yulia. Britain blames the Russian government for the attack, a claim that Moscow has vehemently denied.
Speaking at a panel of an economic conference in Russia's Far East Putin insisted they do not work for the military.




Source HuffPost