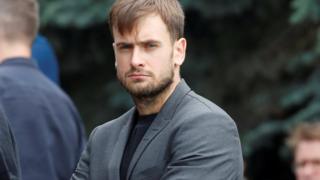 Pyotr Verzilov, an activist with Russian protest group Pussy Riot, has been flown to Berlin for specialist medical treatment following a suspected poisoning in Moscow.
He reportedly fell ill after a court hearing on Tuesday and was taken to hospital in a serious condition.
His symptoms allegedly included losing his sight and ability to speak.
Mr Verzilov is best known for taking part in protest at the World Cup Final earlier this year.
His flight to Germany was reportedly organised by the Cinema for Peace Foundation.
A fellow Pussy Riot member, his ex-wife Nadya Tolokonnikova, is said to have welcomed him at the airport.
A short video and photographs that appear to show him on the plane, then being transported on a stretcher, were shared by German tabloid Bild.


Source BBC News