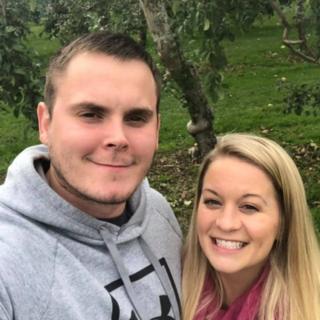 Two newlywed couples are among 20 people who died in a limousine crash that officials say is the worst US transport tragedy in nearly a decade.
Amy and Axel Steenburg wed in June and were celebrating Amy's birthday when their driver lost control of the vehicle in upstate New York.
Erin and Shane McGowan – who also married in June – died, too, in Saturday's collision, say relatives.
Four of the dead were sisters ranging in age from 30 to 35, their family say.
"They were beautiful girls, full of life. They had their whole lives ahead of them," said aunt Barbara Douglas.
"One just got married and that's what this was: her new husband was giving her a surprise birthday party," she told the New York Post.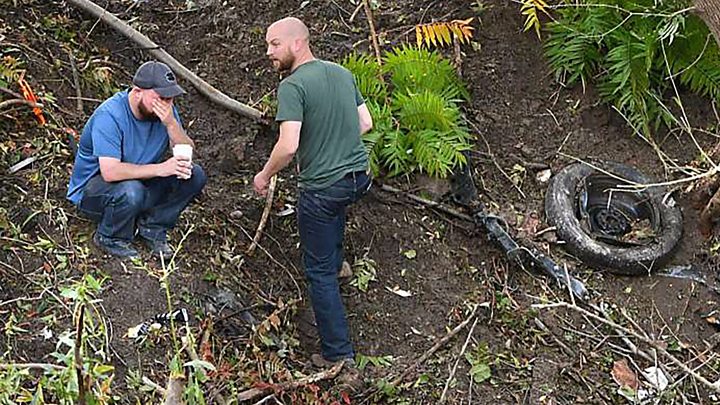 Tom King, 35, said his four sisters who died – Abigail Jackson, Mary Dyson, Allison King and Amy Steenburg – "were very tight".
"They were the Four Musketeers," he said, outside their parents home in Amsterdam, New York.
How did the crash occur?
Officials are investigating the crash, which occurred near the town of Schoharie in New York state on Saturday afternoon.
According to witnesses, the white SUV-style limo failed to halt at a stop sign, and was travelling at around 60mph (95km/h) when it flew through an intersection, hit an empty car outside the Apple Barrel Country Store & Cafe, and then hurtled across a drainage ditch.
All 18 people on board, as well as two pedestrians, were killed outside the restaurant, which is popular among tourists who come to see the trees change colour in the autumn.
Officials say it is the deadliest crash since the 2009 crash of Colgan Air Flight 3407 near Buffalo, New York, which claimed 50 lives.
One victim's relative said the hired limo was a replacement for "some kind of bus" that was supposed to take the group on a tour of wineries and breweries for Amy's 30th birthday party.
The family member told the Washington Post one of the victims sent a text before the crash, saying the limo "appeared in terrible condition".
'I love you more than words can say!'
In Mrs Steenburg's last ever Facebook post, dated on 3 October, she thanked her husband for "being so kind and loving".
"I just wanted to say Axel Steenburg I love you more than words can say!" read the post.
Axel's brother, Rich Steenburg, was also killed in the crash. According to an online fundraiser to cover his funeral expenses, he has one young daughter.
Other victims include Robert and Mary Dyson, who were married in 2009 and have one son together.
Matthew Coons, who served as a groomsman at the Steenburgs' wedding, was also killed, along with his girlfriend Savannah Bursese.
Patrick Cushing, and his girlfriend of two years, Amanda Halse, have also been confirmed as among the dead.
An online fundraiser for the children of Abigail and Adam Jackson, who were left orphaned by the crash, has raised over $57,000 (£43,000) as of Monday.
"Adam and Abby were amazing parents to these girls and taken much too soon," the page says, adding that the children are both under five years old.
Valerie Abeling told CNN that her niece, Erin McGowan was close friends with the Steenburgs.
"My family is just going through a lot," Mrs Abeling said. "It's a horrible tragedy and there's no words to describe how we feel."


Source BBC News