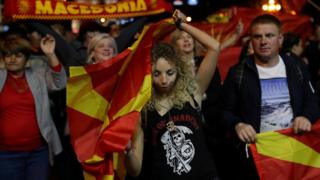 Macedonia's Prime Minister, Zoran Zaev, has vowed to push ahead with plans to change the country's name to North Macedonia.
A vote on the name change was non-binding, with only a third of Macedonians taking part.
Ninety percent of those who voted were in favour of the change, aimed at ending a dispute with Greece, which has its own region called Macedonia.
To ratify the result, Mr Zaev needs the support of two-thirds of MPs.
What happens now?
Mr Zaev has threatened to call early elections if MPs did not support the proposal. He and his coalition partners will need at least a dozen opposition MPs to back the move.
"More than 90% of the total votes are 'Yes', so now it is parliament's turn to confirm the will of the majority," he told AFP.
"I am determined to take Macedonia into the EU and Nato," he said. "It is time to support European Macedonia."
The Greek parliament must also give its approval for the change to go ahead.
What has the reaction been?
Athens had agreed to end its objections to Macedonia's EU and Nato membership bids if the change was passed.
Greek Prime Minister Alexis Tsipras praised the "determination and courage" of Mr Zaev to "complete the implementation of this agreement", a government source told AFP.
The European Union has called for all sides to respect the result. Nato's Secretary General, Jens Stoltenberg said on Twitter it was a "historic opportunity".
The US State Department urged lawmakers "to rise above partisan politics", and "secure a brighter future for the country as a full participant in Western institutions".
Within the county, Macedonian opposition-leaning media outlets have described the low turnout as a sign of the public's unwillingness to support the initiative, calling on Mr Zaev to resign, reports BBC Monitoring.
Pro-government media have focused on the fact that the overwhelming majority of those who did vote supported the name change.
Why vote on a name change?
When Macedonia declared independence during the break-up of Yugoslavia in 1991, Greece objected to its new neighbour's name.
Present-day Macedonia and northern Greece were part of a Roman province called Macedonia. And both claim the heritage of Alexander the Great two centuries earlier.
Greece's objections forced the UN to refer to the new country as "the former Yugoslav Republic of Macedonia".
Athens also vetoed Macedonia's attempt to join Nato in 2008 – and blocked its EU membership ambitions.
What was the proposed solution?
The addition of one word to Macedonia's constitutional name: North.
Since 1991, many suggestions have been proposed, then rejected. But last year's change of government in Macedonia finally brought the start of serious negotiations.




Source BBC News