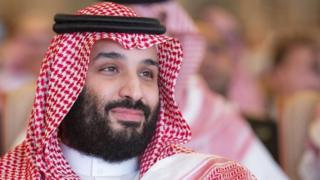 The Saudi crown prince is expected to speak at a business forum in Riyadh and will be eagerly watched for comments on the murder of writer Jamal Khashoggi.
Mohammed bin Salman is listed as a "top speaker" but it is still unclear if he will attend or make any direct comment.
The Saudis deny he had any role in the killing but President Trump has said he bears ultimate responsibility as "he's running things over there".
Khashoggi died after a 2 October visit to the Saudi consulate in Istanbul.
The Saudi government has blamed the murder on rogue agents.
Turkish President Recep Tayyip Erdogan says the journalist was the victim of a carefully planned "political murder" by Saudi intelligence officers and other officials.
Has Mohammed bin Salman said anything so far?
Yes. He gave an interview to Bloomberg, which was published on 5 October, three days after the consulate visit.
In it he said he had "heard rumours about what happened".
He added: "My understanding is he entered and he got out after a few minutes or one hour. I'm not sure."
The crown prince said the Saudis would allow the Turkish government to search the premises as "we have nothing to hide".
He has said nothing directly since.
What will happen at the forum?
The crown prince is scheduled to be on a panel with Lebanon's Prime Minister-designate Saad Hariri.
The three-day conference, called the Future Investment Initiative but dubbed "Davos in the desert" after the Swiss forum, is important for the Saudis but has already been boycotted by many Western business leaders and politicians in the wake of the Khashoggi affair.
The Saudis have tried to portray business as usual at the forum, although Energy Minister Khalid al-Falih acknowledged on Tuesday there was a "crisis" over the Khashoggi issue.
The crown prince made an appearance on Tuesday but said little.
He attended after joining his father, King Salman, in meeting members of the Khashoggi family.
Changing mood
BBC's Sebastian Usher in Riyadh
The sense in Saudi Arabia is undoubtedly growing that this is not a storm that can simply be weathered till it's over.
Botched PR attempts by the Saudis, such as the king and crown prince meeting Khashoggi's son on Tuesday, are only exacerbating the situation.
Crisis meetings have been held by the royal family to decide how far they must go to satisfy the international mood of revulsion. But there appears little prospect of dramatic change at the top.
The mood among foreign investors has noticeably darkened. One American investor who was enthusiastically banging the drum for the crown prince on Tuesday looked a different man this morning as he hurried off to an urgent meeting to discuss a multi-billion-dollar project.
What's the latest with the investigation?
The key issue is the body, of which there is still no sign.
The latest focus appears to be on a well in the garden of the Saudi consulate building.
As with much of the investigation there have been conflicting reports. The Anadolu agency initially reported the Saudis had denied permission for it to be searched, only for broadcaster NTV to say later that permission had been given.
On Tuesday there were similar conflicting reports over whether Khashoggi's belongings had been found in suitcases in a Saudi diplomatic car.
Mr Erdogan has said Turkey has strong evidence the journalist was killed in a premeditated and "savage" murder and has called for the suspects to be tried in Istanbul.
What is Donald Trump's line?
The Wall Street Journal published what appears to be his strongest criticism of the Saudi government to date.
When asked about responsibility, Mr Trump said: "Well, the prince is running things over there more so at this stage. He's running things and so if anybody were going to be, it would be him."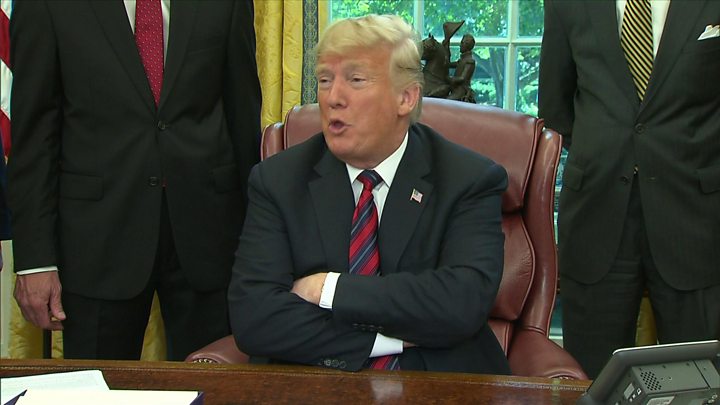 The president said he wanted to believe the crown prince's statement that lower-level officials were to blame.
Earlier he said: "They had a very bad original concept, it was carried out poorly and the cover-up was the worst in the history of cover-ups.
"Whoever thought of that idea, I think is in big trouble. And they should be in big trouble."
The US has vowed to revoke the visas of those believed responsible for Khashoggi's killing – Saudi Arabia says 18 Saudi nationals have been detained – but Secretary of State Mike Pompeo said the punishment would not stop there.
Have others followed suit?
Yes, on Wednesday UK PM Theresa May said anyone suspected of involvement in the killing would be barred from entering the country.
Mr Erdogan repeated he was "determined not to allow any cover up of this murder and for all those responsible, from those who gave the command to those who executed it, not to escape justice".
France on Wednesday said it would take "punitive measures" if Saudi Arabia were "proven" to be responsible.
How has the Saudi story changed?
First, Saudi Arabia said Khashoggi, a prominent critic of the government, had left the building alive, then that he had been killed in a "fist-fight" inside the consulate.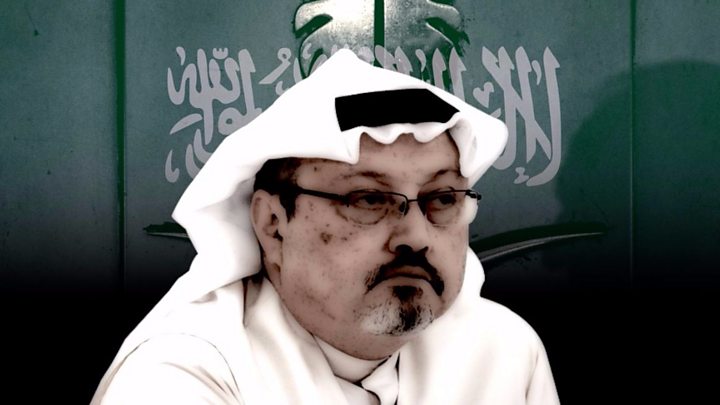 It finally said that Khashoggi had been murdered in a "rogue operation" that the leadership had not been aware of.
An unnamed Saudi official told Reuters news agency on Sunday that Khashoggi had died in a chokehold after resisting attempts to return him to Saudi Arabia.
His body was then rolled in a rug and given to a local "co-operator" to dispose of, the official said.


Source BBC News