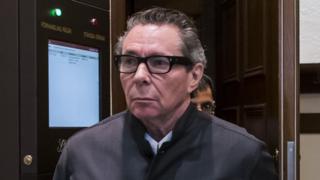 A French photographer at the heart of a rape scandal that saw this year's Nobel Prize for Literature postponed has been handed a two-year prison sentence.
Jean-Claude Arnault, 72, was found guilty of two counts of rape against a woman dating back to 2011, a Swedish court said on Monday.
Arnault, who is well known in Sweden, is married to a former member of the centuries-old Swedish Academy.
The crisis forced the academy to cancel this year's literature award in May.
"The defendant is found guilty of rape committed during the night between the 5 October and 6 October 2011," the Stockholm district court said while announcing its verdict.
It added that the victim had also been "awarded compensation for damages".
Some members of the academy that chooses the literature prize resigned over its handling of the scandal.


Source BBC News