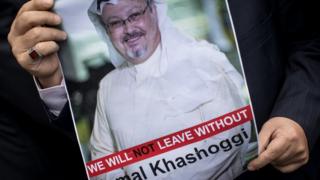 Jamal Khashoggi, a well-known journalist and critic of the Saudi government, walked into the country's consulate in Istanbul last week to obtain some documents and has not been seen since.
His fiancée fears that he has been kidnapped or killed. The authorities in Istanbul believe he was murdered by Saudi agents. Saudi Arabia insists that he left the consulate shortly after he arrived.
Here is what we know – and don't know – about his disappearance.
Who is he?
Mr Khashoggi is a prominent journalist who has covered major stories, including the Soviet invasion of Afghanistan and the rise of Osama Bin Laden, for various Saudi news organisations.
He served as an adviser to top Saudi officials, but later fell out of favour with the government.
He went into self-imposed exile in the US last year, and has written a monthly column in the Washington Post in which he has criticised the policies of Crown Prince Mohammed bin Salman.
In his first column for the newspaper, Mr Khashoggi said that he feared being arrested in an apparent crackdown on dissent overseen by the prince since he became first in line to succeed his father King Salman earlier that year.
"The people being arrested are not even being dissidents, they just have an independent mind," he told the BBC's Newshour programme just three days before he disappeared.
Why was he at the consulate?
He first visited the Saudi consulate in Istanbul on 28 September to obtain a document certifying that he had divorced his ex-wife, but he was told he would have to return.
Mr Khashoggi arranged to come back on 2 October and arrived at 13:14 local time for his appointment, which was scheduled for 13:30.
He reportedly told friends that he had been treated "very warmly" on his first visit and reassured them that he would not face any problems.
Despite this, he gave his Turkish fiancée Hatice Cengiz two mobile phones and told her to call an adviser to President Recep Tayyip Erdogan if he did not come back out.
She ultimately waited for more than 10 hours outside the consulate and returned on Wednesday morning when Mr Khashoggi had still not reappeared.
What does Turkey say happened to him?
Turkish officials say Mr Khashoggi was killed on the premises by a team of Saudi agents and that his body was then removed. But they have not provided definitive evidence to prove this.
An unnamed senior official told the New York Times there was a complex operation in which Mr Khashoggi was killed within two hours of arriving and then dismembered.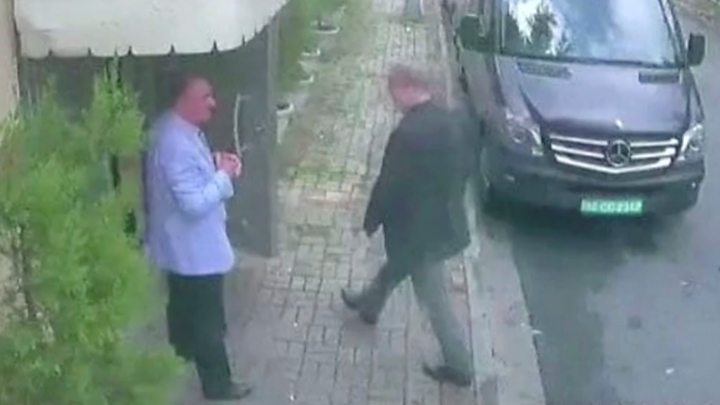 Pro-government Turkish newspaper Sabah said it had identified a 15-member team of suspected Saudi agents who flew into and out of Istanbul on the day of the disappearance.
Nine of the agents reportedly arrived on a private jet from the Saudi capital, Riyadh, at around 03:15 on the day Mr Khashoggi visited the consulate.
The rest of the suspected agents are reported to have arrived later that day on a second private jet or on commercial flights. The group then checked in to two hotels nearby the consulate building.
CCTV footage broadcast by Turkish TV appears to show groups of Saudi men entering the country via Istanbul airport and then checking in to the hotels.
It also shows vehicles driving up to the consulate an hour before Mr Khashoggi's visit, including black vans thought to be central to inquiries.
One of the vans is reported to have taken some of the men from the consulate to the nearby residence of the Saudi consul about two hours after Mr Khashoggi's arrival.
The group then left the country on the two private jets that flew to Riyadh via Cairo and Dubai, according to investigators.
Turkish employees at the consul's residence were also "hastily" told to leave on the day he disappeared, according to Sabah.
The Washington Post also reports that prior to Mr Khashoggi's visit, US intelligence had intercepted communications of Saudi officials discussing a plot to capture him.
What does Saudi Arabia say?
Prince Mohammed told Bloomberg News last week that his government was "very keen to know what happened to him", and that Mr Khashoggi had left the consulate "after a few minutes or one hour".
"We have nothing to hide," he said.
Prince Mohammed's brother and the Saudi ambassador to the US, Prince Khaled bin Salman, has insisted all reports about his disappearance or death "are completely false and baseless".
The country's foreign ministry has said it is "open to co-operation" and a search of the building can go ahead as part of the investigation.
Turkey has said it will conduct a search, but has also asked for definitive proof that Mr Khashoggi left the building.
Separately, Mr Khashoggi's son has told the Saudi-owned Al Arabiya news outlet that his father's disappearance has been "politicised" by foreign parties.
"The issue is that there is a Saudi citizen who has gone missing," he said.


Source BBC News