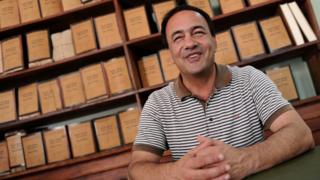 The mayor of a town in southern Italy famed for taking in migrants has been put under house arrest.
Domenico Lucano, mayor of Riace, has been detained over his alleged involvement in organising "marriages of convenience" for immigration purposes.
He is also accused of assigning a contract for rubbish collection without going through the required process.
The charges follow months of tougher migration enforcement from Italy's populist government.
Mayor Lucano made headlines around the world for his unusual programme that welcomed migrants to the sparsely-populated town in Calabria, giving them abandoned homes and on-the-job training, in the hope that the new arrivals would rejuvenate the economy.
He started the programme in 1998 under a previous government, and since then hundreds of migrants have joined the small town of about 2,000 people.
The success of the programme, lauded by many as a model of integration, led to Mayor Lucano being named one of the world's 50 greatest leaders by Fortune magazine in 2016.
On Tuesday, he was arrested by Italy's financial police as part of an investigation into allegedly facilitating illegal migration.
The first charge detailed by prosecutors involves the arranging of marriages of convenience to get around immigration regulations.
Prosecutors said they had wire-tapped Mr Lucano's phone and recorded at least one exchange in which the mayor appeared to suggest marriage as a solution to a woman's immigration problems. As mayor, he is in charge of the town's civil registry.
Separately, prosecutors said that rubbish collection services had been allocated to two companies without going through the required public tender process.
That charge may also have a connection to the town's migrant programme. The two companies were community co-operatives established "to provide work for the people of Riace and migrants", according to Italian newspaper La Repubblica.
His partner Tesfahun Lemlem faces the same charges and has been banned from living in the area.
However, the most serious allegation made against the mayor has been dropped.
The investigation had originally explored alleged mismanagement of public funds provided by the interior ministry. Prosecutors said that while the management of funds may have been disorderly, there was no evidence that any amount had been misappropriated.
Italy's populist government came to power in June with the head of the right-wing League party, Matteo Salvini, taking the role of interior minister. He has since pursued a series of anti-migration policies.
Mr Salvini reacted on Twitter by wondering what "all the good guys who want to fill Italy with immigrants" would say about the story.
He singled out writer Roberto Saviano, a vocal critic of Mr Salvini and a supporter of Riace's migration programme.
Mayor Lucano, however, has yet to issue a statement on his arrest.


Source BBC News