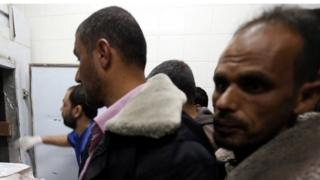 Three Palestinian youths have been killed in an Israeli air strike in the border area between Israel and Gaza, Palestinian officials say.
The Hamas-run health ministry in Gaza says boys aged between 12 and 14 died near the town of Khan Younis.
Israel says the Palestinians were trying to plant an explosive device near the border fence in southern Gaza.
Palestinians in Gaza have been protesting weekly along the border with Israel since March.
The protests, orchestrated by the territory's militant Hamas rulers, are held in support of the declared right of Palestinian refugees to return to their ancestral homes in what is now Israel.
More than 200 Palestinians – mostly in the demonstrations – have been killed by Israeli troops since the protests began, according to the United Nations and Hamas-run health ministry in Gaza.
One Israeli soldier has been shot dead by a Palestinian sniper.
Israel says its forces have only opened fire in self-defence or against would-be attackers trying to infiltrate Israel under the cover of the protests.


Source BBC News