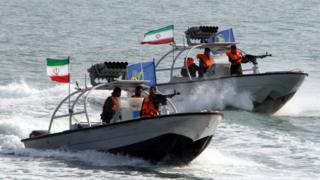 Iran's Revolutionary Guards have seized a Saudi fishing boat in the Gulf and detained its crew, reports say.
The boat had entered Iranian waters off the island of Farsi when it was stopped, officials were quoted as saying.
Saudi Arabia has not yet commented on the incident.
Tensions are currently high between the two countries. The longstanding regional rivals are on opposite sides in conflicts in Yemen and Syria.
No details have been released about how many crew were on the boat, or their nationality.
The prosecutor for the port city of Bushehr, Ali Hassanpour, was quoted as saying that they had been taken to a local prison.
"An investigation into their border encroachment is under way," he was quoted by an official news agency as saying.
The two countries have a history of confrontations in Gulf waters.
Last year, Saudi authorities said three members of Iran's Islamic Revolution Guards Corps (IRGC) had been captured in a boat near the Saudi coast.
Iran denied the claim and accused the Saudi navy of firing on two Iranian fishing boats.


Source BBC News