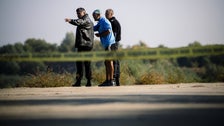 SOFIA, Bulgaria (AP) — A suspect in the rape and killing of a Bulgarian television journalist whose work highlighted corruption in the East European country has been arrested in Germany, officials said Wednesday.
Bulgaria's prosecutor general, Sotir Tsatsarov, confirmed the arrest of Severin Krasimirov, a 21-year-old Bulgarian citizen, but gave no further details. German authorities were not immediately available.
Interior Minister Mladen Marinov said investigators had found DNA evidence on the clothes and body of Viktoria Marinova, who was raped and strangled on Saturday in the northern town of Ruse.




Source HuffPost