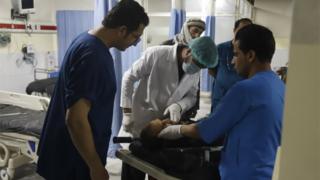 At least 10 people have died and 19 were injured after a compound for British security firm G4S was attacked, authorities said.
Gunmen stormed the compound after a car bomb was detonated outside, according to an Afghan interior ministry spokesman.
A security source has told the BBC that foreigners were among the casualties.
There was reportedly a heavy exchange of gunfire. The Taliban have claimed responsibility for the attack.
While the interior ministry confirmed the death toll, it also warned the number could well rise.
G4S, one of the world's largest security groups, helps guard the area around the British embassy.
"We can confirm that there has been an incident at one of our locations in Kabul," a G4S spokesperson told news agency AFP.
"The situation is ongoing and we are co-ordinating with the Afghan authorities to bring it to a conclusion."
Hafizullah, the father of three children wounded in a house near the compound, told Reuters news agency that the blast "shattered" all the doors of his home.
"There was a bang and right after that, all the windows and ceiling collapsed over the children," he said.
The attack marked the latest violence to hit the Afghan capital.
It came just hours after President Ashraf Ghani announced plans to form a team to seek a peace deal with the Taliban.
Face-to-face talks would be held with the militant group, but any agreement would need the approval of the Afghan people.
Just the previous day, three US service members were killed and three more were wounded in an explosion near Ghazni.


Source BBC News