The French government launched an online platform this week for reporting sexual and gender-based violence, days after tens of thousands of protesters in the country joined a global call to end violence against women.
The service will allow victims or witnesses of sexist violence to share information with authorities via their computers or mobile devices.  
"From now on, a few clicks can help each woman to make a fresh start: for herself, for her family, and perhaps to avoid the worst," Prime Minister Édouard Philippe said in a statement on Sunday, the United Nations' International Day for the Elimination of Violence Against Women. 
French President Emmanuel Macron first announced plans for the platform a year ago, as the global Me Too movement was taking off and French women began sharing their own stories of harassment with the viral hashtag #BalanceTonPorc ― meaning "squeal on your pig."
Macron has made the fight against gender inequality and sexist violence one of the key causes of his presidency. In August, the government outlawed lewd street harassment and cracked down on sexual violence against minors. But critics have argued that the government hasn't gone far enough to close the gender gap and protect women from violence.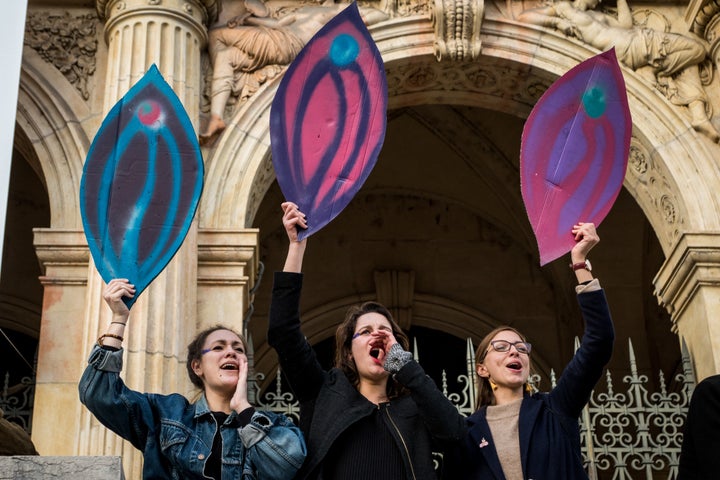 People took to the streets on Saturday to demand an end to "impunity for aggressors" and violence against women, HuffPost France reported. Protest organizer Caroline De Haas said it was "the biggest feminist mobilization we have ever seen in France." Organizers estimated that 50,000 people, including 30,000 in Paris, took part in the protest. Police put the figure of marchers in Paris at 12,000.

HuffPost France published photos of men and women marching under a banner reading "Nous Toutes," or "All Of Us," which is France's answer to the Me Too movement.
Marlene Schiappa, France's gender equality minister, hailed the protest as a "great demonstration" that "must be seen and heard." 
Dozens of similar protests took place around the world last weekend to mark the U.N.'s annual day of awareness.  
The U.N. Office on Drugs and Crime used the occasion to call attention to a major report on gender-related killing of women and girls. The report, released Sunday, found that domestic violence is the most common killer of women around the world. About 87,000 women were murdered around the world last year, according to the report, and more than half were killed by people they knew.
France published its own femicide statistics on Sunday: In 2016, 123 women in the country were killed by their spouses or ex-partners, for a rate of about one murder every three days.




Source HuffPost