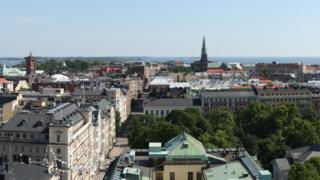 A new cocktail bar in Finland has imposed a ban on mobile phones, to the delight of most patrons.
Chihuahua Julep, which opened in central Helsinki in August, initially just encouraged customers to put their phones away so that the lights from the screens wouldn't ruin the ambience, Finnish public service broadcaster Yle reports.
But soon staff brought in an outright ban, requiring customers to put their phones in a box on arrival.
Chihuahua Julep owner Jami Jarvinen admits that some have struggled with the rule, in particular young people and parents anxious to keep track of their children, but most welcome the chance to "unwind without the pings and buzzes of smartphones".
'Unforgettable moments'
"It's great to see that it was the right decision. People really need a moment in their hectic daily lives to relax without smart devices, and many wouldn't do so if we hadn't decided to enforce the ban," Mr Jarvinen told Yle.
He said the ban has been a boon for his staff too, as they have witnessed "many unforgettable moments" of people getting to know each other in person for a change.
The bar's customers seem to appreciate the ban too. Minna said her first time in Julep was "confusing", but on her second visit she found giving up her phone easier. "I used to feel that I was missing out on something important," she told Yle, "but now it's possible to enjoy yourself".
You may also be interested in:
Should phones be banned at gigs?
'Smartphone zombies' get their own lane
Helsinki gives away its old trams
Finland, home of the Nokia phone, has seen a great deal of public debate about screen dependency recently.
Psychiatrist Jukka Makela has suggested a ban on phones in schools, while Suvi Uski, a psychologist specialising in social media addiction, estimates that 90% of smartphone users have a problem.
This chimes with research elsewhere. A study at the McCombs School of Business at the University of Texas last year reported that the mere presence of a mobile phone in the line of vision causes a lapse in concentration – even if the device is switched off.
The phone ban at Chihuahua Julep is not as drastic as the step a landlord took to stop mobile use in his pub in Sussex in the UK: he installed a Faraday Cage all around the bar to block phone signals completely.
Reporting by Matilda Welin and Martin Morgan
Next story: Russians choose 'heaven or just death'
Use #NewsfromElsewhere to stay up-to-date with our reports via Twitter.




Source BBC News