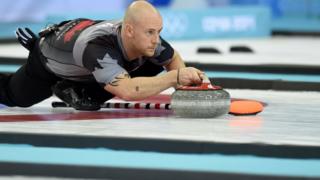 An Olympic gold medallist's curling team has been kicked out of the Red Deer Curling Classic tournament for poor behaviour and drunkenness.
Ryan Fry, who won gold for Canada at the 2014 Winter Olympics, and team mates Jamie Koe, Chris Schille, and DJ Kidby forfeited their final game after fans and opponents complained.
The group reportedly broke brooms and damaged locker rooms.
Mr Fry later apologised for his behaviour.
He was part of the Canadian curling team that bested Great Britain's curlers in the Sochi 2014 final.
"They went out to curl and they were extremely drunk and breaking brooms and swearing," Red Deer Curling Centre facility manager Wade Thurber told Canadian broadcaster CBC.
Mr Thurber also said there was "some damage in the locker room", and as a result they were disqualified.
"I wish nothing more than to apologize to everyone individually," Olympian Ryan Fry said in a statement.
"I will strive to become a better version of myself while contributing positively to the sport and curling community that I love so much."
Although he was not taking part, Jamie Koe also issued a statement apologising on behalf of the team.
The Red Deer Classic bonspiel, or curling event, is a part of the World Curling Tour.
It takes place annually in Red Deer, Alberta, and counts towards rankings of the best curling teams in Canada.


Source BBC News