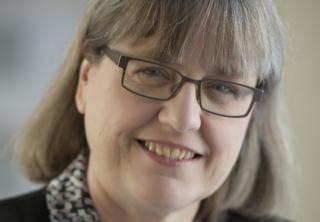 Canadian scientist Donna Strickland calls herself a "laser jock".
The physics professor used the description in an interview with a Canadian newspaper, where she discussed efforts to get young people interested in the realm of physics.
Dr Strickland has spent much of her life studying and teaching physics, and describes her research as "fun".
Now she shares the distinction of being one of three women to ever win the Nobel Prize for physics.
Dr Strickland, along with Arthur Ashkin, from the US and Gérard Mourou, from France, were awarded the prize on Tuesday "for groundbreaking inventions in the field of laser physics".
The scientist was born in 1959 in Guelph, Ontario.
She went on to receive her first degree in the field of physics in 1981, graduating from McMaster University.
She studied optics at the University of Rochester, in New York state, working towards her PhD under Mr Mourou.
It was at the University of Rochester that the pair co-invented Chirped Pulse Amplification, a "method of generating high-intensity, ultra-short optical pulses" for which they were awarded this year's prize.
That invention has a variety of applications, including corrective laser eye surgery.
She has been teaching at the University of Waterloo, in Ontario, Canada, since 1997, where she oversees an ultrafast laser lab and works with a team of undergraduate and graduate students.
"The most fun part of my day is when I get to play with my lasers," she told The Record in 2010.
"I've been doing this a long time, and I still think it's fun."
She also said she wanted to attract young people to the field by fighting the perception that science was nerdy – hence her description of herself as a "laser jock" rather than a "laser geek".
The Nobel Prize will be just the latest accolade Dr Strickland has received for her work.
In 1999, she received Ontario's Premier's Research Excellence Award and in 2000 she was the recipient of the Cottrell Scholars Award, which is given to scholars who are recognised for their research and academic leadership.
In 2008, she was named a fellow of the Optical Society of America for her pioneering work in the field of ultrafast laser and optical science.
Dr Strickland has said she enjoys the competitive rush of pushing the boundaries of what lasers can do.
Her field of research is all about "who has the shortest pulse, the most energy, the highest average power", she told the University of Waterloo in 2011.


Source BBC News