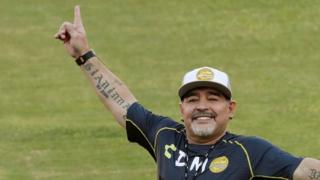 Argentine football legend Diego Maradona has begun a new job as manager of a Mexican second-division club.
The 1986 World Cup winner said the experience was a rebirth after years of battling drug addiction, alcoholism and obesity.
The choice though of Dorados in Sinaloa state, home to one of Mexico's most powerful drug cartels, surprised some.
Maradona said he would coach in an attacking manner, similar to how he played.
"We are going to look to win games, as I do not like to play defensive football," Maradona told his first press conference.
He also acknowledged some of his past struggles. "I had a lot of missteps in my life. I assume this responsibility like someone who holds a child in their arms," he said.
"When I took [drugs] … It made me go backwards, it was a step back, and what football players have to do is go forward."
Although local media reported that residents of the wealthy neighbourhood where Maradona hopes to live have blocked his move, Dorados fans were largely supportive.
"We trust you, Diego. Here we don't criticise, we only admire," one fan's sign said.
Mexico was the scene of Maradona's finest moment as a player, when he led his country to the 1986 World Cup title.
But he said had not come to the club to reminisce. "We are not here for a stroll, we didn't come on vacation, we came to work… It will be great to win together, it will be great to win together," he said.


Source BBC News