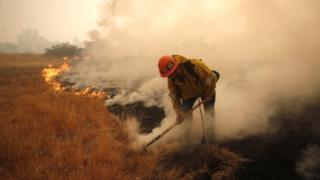 Unchecked climate change will cost the US hundreds of billions of dollars and damage human health and quality of life, a US government report warns.
"Future risks from climate change depend… on decisions made today," the 4th National Climate Assessment says.
The report says climate change is "presenting growing challenges to human health and safety, quality of life, and the rate of economic growth".
The warning is at odds with the Trump administration's fossil fuels agenda.
The world's leading scientists agree that climate change is human-induced and warn that natural fluctuations in temperature are being exacerbated by human activity.
The US climate assessment – compiled with help from numerous US government agencies and departments – outlines the prospective impacts of climate change across every sector of American society.
"With continued growth in emissions at historic rates, annual losses in some economic sectors are projected to reach hundreds of billions of dollars by the end of the century – more than the current gross domestic product (GDP) of many US states," the report says.


Source BBC News