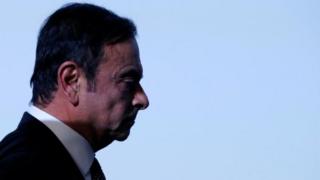 Nissan's board has voted to dismiss Carlos Ghosn as chairman following his arrest over allegations of financial misconduct, Japanese media has said.
He has been accused by Nissan of under-reporting his salary and using company assets for personal use.
But some see it as part of the firm's attempt to rebalance power in its alliance with Renault and Mitsubishi, which Mr Ghosn also chairs.
The 64-year-old was the architect of the tie-up between the three firms.
The board also voted to remove senior executive Greg Kelly, the Nikkei newspaper reported.
The two men remain in custody in Tokyo.
Mitsubishi Motors will meet to discuss Mr Ghosn's role there next week. Two days ago Renault's board said it was appointing a temporary deputy chief executive to take over the running of the French car firm.
What are the accusations?
Nissan has accused Mr Ghosn of "significant acts of misconduct", including under-reporting his pay package and personal use of company assets.
On Monday, the firm said it had been conducting an internal investigation for several months, prompted by a whistleblower.
Nissan also accused Mr Kelly of having been "deeply involved" in the misconduct.
Prosecutors have said the two men conspired to understate Mr Ghosn's compensation, starting in 2010.
Mr Ghosn is accused of filing annual securities reports containing fake statements, which could mean up to 10 years in prison, or a fine of 10m yen, or both.
Broadcaster NHK has also reported, citing unnamed sources, that Nissan spent millions of dollars on luxury homes in four countries without legitimate business justifications.
Millions of dollars had been spent to purchase and renovate the homes in Brazil, Lebanon, France and the Netherlands, NHK said.
Mr Ghosn has not been charged.


Source BBC News