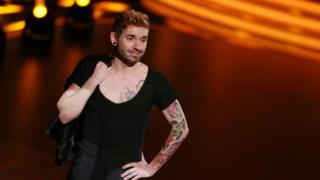 A search has been called off for a German pop singer who went missing from a cruise ship off Canada's Atlantic coast.
Daniel Küblböck, 33, fell overboard on Sunday morning as the ship was heading towards St John's, Newfoundland.
The cruise operator said the AidaLuna stopped and returned to where the incident happened following a cabin search.
The case has now been handed over to police as a missing person file.
The Canadian Armed Forces said in a statement that the "difficult decision" was taken to end the search on Monday morning "given the short survivability time due to the temperature of the water at this time of year".
Coast guard vessels and military aircraft were deployed to assist in the search for the missing man.
The search was focused on a region about 200 km (125 miles) north of St. John's.
The cruise ship was on a 16-day trip, leaving Hamburg, Germany on 29 August. It is scheduled to arrive in New York on 14 September.
Aida Cruises said on Twitter that "our thoughts with the family of the missing".
Mr Küblböck came to fame as a contestant in the talent show Germany Seeks the Superstar in 2003.
He has since appeared on a number of reality television shows, including Let's Dance in 2015.


Source BBC News