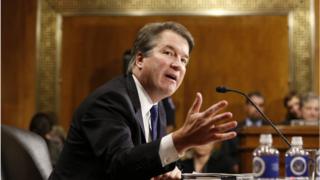 A Yale classmate of Supreme Court nominee Brett Kavanaugh says the judge lied under oath about his "heavy" drinking habits.
Charles Ludington said that he was "deeply troubled" by the judge's "blatant mischaracterisation".
Mr Kavanaugh has denied ever drinking to the point of memory loss – most recently during last week's testimony before a Senate committee.
The FBI is inquiring into allegations of sexual assault by Mr Kavanaugh.
The new inquiry has delayed a final vote on Judge Kavanaugh, who if confirmed is likely to tip America's highest court in favour of conservatives.
What did the classmate say about Mr Kavanaugh?
Prof Ludington, who teaches at North Carolina State University, said he had seen Judge Kavanaugh slurring his words and staggering after excessive alcohol consumption while at Yale.
The professor also said Judge Kavanaugh "was often belligerent and aggressive" when drunk, according to US media.
"I can unequivocally say that in denying the possibility that he ever blacked out from drinking, and in downplaying the degree and frequency of his drinking, Brett has not told the truth."
He noted that it was not Judge Kavanaugh's drinking habits in college that worried him – it was the fact that he made questionable statements under oath.
"If he lied about his past actions on national television, and more especially while speaking under oath in front of the United States Senate, I believe those lies should have consequences," Prof Ludington said.
The professor plans to speak with the FBI on Monday, according the New York Times.
His statement contradicts another Yale classmate – former NBA player Chris Dudley – who told the Washington Post he "never, ever saw Brett Kavanaugh black out" from alcohol consumption.
What is the FBI investigating?
Prof Ludington and Mr Dudley are one of several of Judge Kavanaugh's classmates who have recently spoken out about his behaviour at Yale.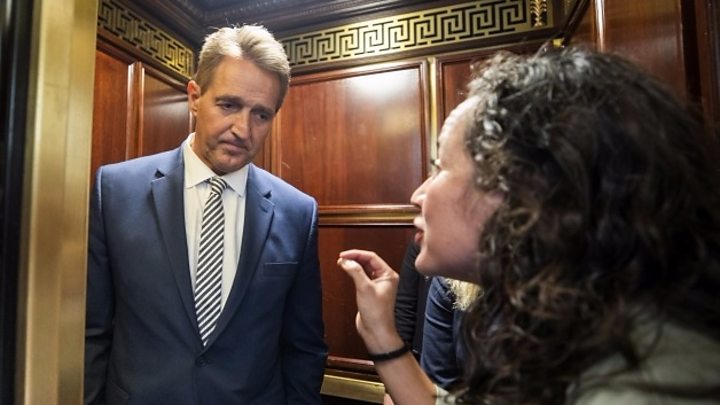 The discussion around the top court nominee's drinking habits forms part of the FBI inquiry, which is expected to be completed within a week.
US media report that the FBI spoke with Ms Ramirez, who accuses Judge Kavanaugh of exposing his genitals to her during a college party, on Sunday.
Opposition democrats have accused the administration of trying to limit the scope of the inquiry, amid media reports that Judge Kavanaugh's third accuser – Julie Swetnick – would not be interviewed.
Mr Trump has denied imposing any restrictions, saying he wanted the FBI "to interview whoever they deem appropriate".
Despite this, NBC news quoted a White House official as saying restrictions remained in place, adding that as the FBI is carrying out a background – not a criminal – investigation, the White House decides the parameters of the probe.
The most senior Democrat on the Senate's Judiciary Committee, Dianne Feinstein, has sent a letter urging the White House to release the written directive sent by President Trump to the FBI launching the investigation.
Although the Senate Judiciary Committee on Friday approved Judge Kavanaugh's nomination, it was conditional on a new inquiry into what it said were the "credible allegations" facing him.
As the investigation is not a criminal one, the FBI will not say whether they believe the allegations are true.
Who are Mr Kavanaugh's accusers?
The first woman to come forward with allegations against Mr Kavanaugh was psychology professor Christine Blasey Ford. She testified at a hearing last week that he tried to remove her clothing, pinned her to a bed and covered her mouth at a house party in 1982, when she was 15 and he was 17.
In response to her testimony, Judge Kavanaugh said he had never assaulted her or anyone else. He accused Democrats of politicising the process and harming his family and good name.
Two other women have also come forward: Deborah Ramirez, who attended Yale at the same time as Mr Kavanaugh, says he exposed his genitals to her during a college drinking game.
Julia Swetnick says she went to house parties attended by Mr Kavanaugh in the early 1980s, where she said he and his friends had tried to "spike" girls' drinks. He has denied both accusations.




Source BBC News