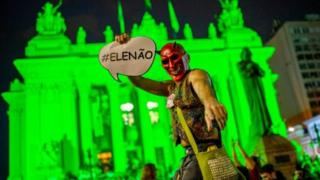 Millions of Brazilians vote on Sunday, choosing between two very different politicians to be their next president.
Far-right candidate Jair Bolsonaro faces leftist Fernando Haddad of the Workers' Party in the second and final round of presidential elections.
While polls have been narrowing, Mr Bolsonaro remains in the lead.
The election has been over-shadowed by corruption scandals and a knife attack on Mr Bolsonaro in which he lost 40% of his blood and needed emergency surgery.
Brazilians will also be asked to vote for governors in all 27 states and all 513 seats in the chamber of deputies.
63-year-old ex-army captain Mr Bolsonaro is from the small, conservative Social Liberal Party. His provocative statements on abortion, race, migration, homosexuality and gun laws have earned him the nickname "Trump of the Tropics."
55-year-old Mr Haddad, a former Sao Paulo mayor and education minister, is the son of a family of Lebanese immigrants.
He replaced former President Luiz Inácio Lula da Silva, currently serving a 12-year prison sentence on corruption charges, as the presidential candidate for the Workers' Party less than a month before the first round of the election.
Two final opinion polls released on Saturday showed that support for Mr Haddad had increased, though Mr Bolsonaro was still expected to win about 55% of the vote.
"This thing is going to turn around," Mr Haddad told supporters at his final campaign rally.
Mr Bolsonaro made his final pitch on social media. He has not campaigned in public since he was stabbed in the stomach at a rally in September, sending him to the hospital for three weeks.
"God willing, tomorrow will be our new independence day," he tweeted.
'Hungry for change'
Analysis by Katy Watson, BBC South America Correspondent
If the polls are right, this election is for Mr Bolsonaro to lose.
He has capitalised on the hatred towards the left-wing Workers' Party. With its founder Lula da Silva in jail for corruption, he has painted the party as responsible for Brazil's growing violence, economic woes and political graft.
On Saturday, Fernando Haddad warned voters that Mr Bolsonaro's proposal of arming Brazilians would only increase crime. His supporters, though, don't care – they're hungry for change and believe Mr Bolsonaro can deliver it.
Brazil has been rocked by an increase in violent crime and a huge political bribery scandal that has tainted the entire political class. The economy shrank by nearly 7% during the country's worst-ever recession in 2015.
Voting is mandatory for the country's 147 million eligible voters, with results expected around 22:00 GMT.
The winner will replace President Michel Temer from the conservative Brazilian Democratic Movement Party (MDB), who leaves office with an approval rating of just 2%.


Source BBC News