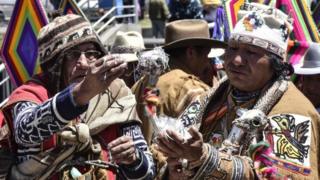 The International Court of Justice (ICJ) has ruled against Bolivia in its dispute with neighbouring Chile over access to the Pacific Ocean- a feud dating back to the late 19th Century.
Landlocked Bolivia lost access to the sea in 1884 after a war with Chile and has tried to regain it ever since.
The court said Chile was not obliged to negotiate granting Bolivia access.
The ruling, which comes after five years of deliberations, is final and binding.
Background to the dispute:
After its defeat by Chile in the War of the Pacific, Bolivia lost 120,000 sq km of land and became a landlocked country
Bolivia said that Chile had an obligation to "negotiate a sovereign access to the sea for Bolivia"
It brought the territorial dispute in 2013 to the International Court of Justice in The Hague
Chile and Bolivia have not had full diplomatic relations since 1978
Source: BBC Monitoring
Judges at the United Nations' top court did not rule on whether Chile or Bolivia had the rights to the disputed coastal stretch, it only ruled on whether Chile had an obligation to negotiate with Bolivia.
The borders between the two neighbours date back to the 1904 Treaty of Peace and Friendship, signed after Bolivia lost 400km (250 miles) of coastline to Chile during the War of the Pacific (1879-1884).
Read more about territorial disputes:
Much of Bolivia's trade passes through Chilean ports and Bolivia argued that having sovereign access to the Pacific Ocean was key to its economy and would have boosted growth.
Chile insisted that the disputed coastal stretch was sovereign Chilean territory and as such "would not be a part in anyone's negotiations".
Bolivian President Evo Morales travelled to The Hague to attend the announcement of the ruling in person. Before boarding the plane, he said: "Our return to the sea is not only possible, it is inevitable."
Mr Morales, who has been in power since 2006 and who is running for a fourth consecutive term in 2019, was one of the key people pushing the issue.
The ruling against Bolivia is a major setback for President Morales, as the issue is a highly emotional one in Bolivia.
Despite having no access to the sea, Bolivia maintains a small navy and celebrates the Day of the Sea every year.


Source BBC News