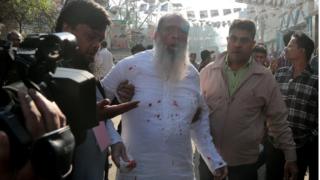 Bangladesh's opposition has condemned what it has called a "farcical" election and demanded a new vote.
Early results show Prime Minister Sheikh Hasina's party in the lead, and she is likely to win a large majority.
But there have been claims of vote-rigging, and a BBC correspondent saw filled ballot boxes at a polling centre before polls opened.
"We urge the election commission to void this farcial result immediately," opposition leader Kamal Hossain said.
The Bangladesh Election Commission told Reuters news agency that it had heard vote-rigging allegations from "across the country" and would investigate.
At least 17 people have been killed in clashes between ruling party supporters and the opposition.
'Too scared to speak out'
Yogita Limaye, BBC News, Dhaka
As we went from polling booth to polling booth, one pattern became clear. People who were supporters of Prime Minister Hasina's party were vocal, and happy to answer our questions on camera, about what issues they'd voted on. The others were mostly too scared to speak out.
One man told us that several members of his extended family found that their votes had already been cast when they went to the polling booth. He said he didn't think it was a fair election but didn't want to be identified
It wasn't hard to see why he felt intimidated. Outside every polling booth we went to, there were dozens of workers from the prime minister's party, listening intently when anyone was interviewed. No-one from the opposition parties was visible.
While the election commission has said it will investigate claims of vote-rigging, the organisation has itself been accused of bias by the opposition.
So far, the prime minister has not responded to these latest allegations but two days ago rejected claims the election was unfair.
It is widely anticipated that her party will win the polls, but it will be a controversial victory.


Source BBC News