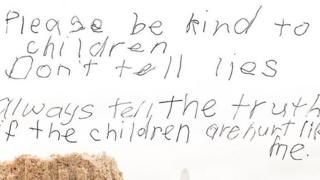 Survivors of child sexual abuse in Australia are gathering to hear a national apology.
Hundreds of victims and their supporters have arrived in Canberra for the apology, to be given by Prime Minister Scott Morrison in parliament.
It follows a five-year inquiry which found tens of thousands of children had suffered abuse in Australian institutions over decades.
The government described the findings as a "national tragedy".
The inquiry, which concluded last December, heard more than 8,000 testimonies from victims about abuse in organisations such as churches, schools and sports clubs.
On Monday, Mr Morrison is expected to acknowledge their suffering as well as failures by institutions to protect them.
He will also announce the creation of a museum of remembrance to raise awareness about the impacts of abuse, Australian media reported.
Action urged
Support groups said victims and their supporters had travelled from around the nation to hear the apology.
"They are coming with very heavy hearts," said Leonie Sheedy, the chief executive of Care Leavers Australasia Network.
"It is a wonderful thing our country's apologising, but there is so much more work to be done."
Many survivors have criticised the government's response to the inquiry – especially over the terms of a national compensation scheme.
Victims are eligible to apply for payments of up to A$150,000 (£80,000; $106,000) each.
In August, the Catholic Church formally rejected one recommendation made by the inquiry that priests should be forced to report sexual abuse disclosed during confession.


Source BBC News