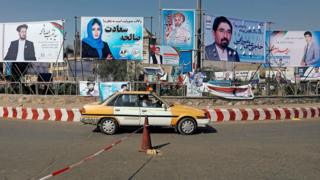 A suicide attacker has targeted an election campaign rally in the Afghan province of Nangarhar, killing 13 people and injuring more than 30.
Supporters of parliamentary candidate Abdel Naser Momand had gathered in Kama district when the blast happened.
Campaigning for the 20 October parliamentary election began on Friday, and there had been threats of violence.
Both the Taliban and the Islamic State group have urged people to boycott the election.


Source BBC News