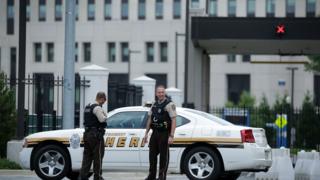 Staff and patients at the biggest military medical centre in the US evacuated after an active shooter alert was mistakenly set off before a drill.
The incident took place at the Walter Reed Medical Centre in Maryland when a subordinate commander forgot to note it was a test, the US Navy said.
A large team of police was deployed to the centre.
Police later gave the all-clear, but not before some patients had sent anxious messages on social media.
Patients scrambled for safety after the evacuation and were told to '"shelter in place" while the hospital was locked down.
In a statement, the US Navy said the incident was "the result of the improper use of a mass notification system by a tenant command aboard the installation."
Authorities said the centre was preparing for a drill and mistakenly filed the false alarm.
The fear of mass shootings remains very real in the US, which has seen a number in recent years, including the killing by a gunman last week of three people at a Chicago hospital.




Source BBC News