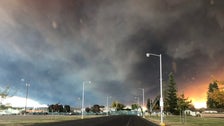 An 8,000-acre fire in Northern California's Butte County forced thousands to evacuate from their homes, hospitals and schools on Thursday. Smoke from the wind-driven fire, which started Thursday morning, can be seen from as far away as 150 miles.
The blaze, known as the Camp Fire, is moving at an estimated 80 acres per minute.
Residents of Butte County ― and particularly Paradise, California, and its surrounding towns ― have been ordered to evacuate and take shelter in local churches in the neighboring town of Chico. Residents ― and even two police officers ― have also reported leaving their vehicles and evacuating on foot after being met with blackout conditions and gridlocked traffic on the county's roads and highways.
Adventist Health Feather River, a hospital in Paradise, evacuated its patients on Thursday afternoon.
Classes have been canceled at Butte College and students have been told to evacuate. Residents in the small rural towns that make up Butte County have been ordered to evacuate their large animals or leave them in open pastures.
California firefighters say climate change is fueling more extreme and destructive fires, and the numbers paint a clear picture of the threat California is facing. Thirteen of the state's 20 most-destructive fires on record have occurred since 2003. Coming in at No. 6 is the Carr Fire, which burned more than 200,000 acres, destroyed 1,599 structures and killed seven people, including three firefighters.
Additionally, 15 of the state's 20 largest fires have occurred since 2002. The Mendocino Complex fire, which burned more than 450,000 acres north of Santa Rosa in July, surpassed last year's Thomas Fire as the largest wildfire in California's history.




Source HuffPost