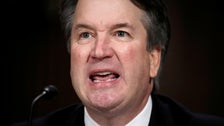 WASHINGTON ― White House press secretary Sarah Huckabee Sanders refused to say Wednesday whether the Trump administration was limiting the scope of the supplementary background investigation into Supreme Court nominee Brett Kavanaugh.
Bloomberg reported on Wednesday that the White House had not authorized the bureau to interview either Kavanaugh or Christine Blasey Ford, who accused Kavanaugh of drunkenly sexually assaulting her in the early 1980s while accompanied by his friend Mark Judge.
Huckabee Sanders said Kavanaugh and Ford had been heard "in the most public way possible" during a Senate Judiciary Committee hearing after the allegations emerged. That gave senators an opportunity to question both Kavanaugh and Ford directly, she said.
"If they had additional questions for either one of them, they had a time and an opportunity, certainly, to ask those," she said.
The FBI background investigation into Kavanaugh isn't a criminal probe, so it's not necessarily improper for the White House to direct the bureau's actions. The White House is, essentially, the bureau's client. One former government official compared the relationship between the FBI and the White House in this scenario to a woman hiring a private eye to check in on her spouse.
But limiting the probe would expose the White House to criticism that the Trump administration isn't really interested in getting to the truth of the matter, but is rather seeking to ― in the words of Sen. Jeff Flake (R-Ariz.) ― simply give Republicans "more cover."
This is a developing story. Please check back for updates.




Source HuffPost