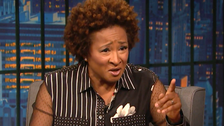 Wanda Sykes lashed out at voter suppression tactics on Tuesday's broadcast of "Late Night."
The discouraging of specific groups from voting in a bid to swing elections is "ridiculous," the stand-up comedian told host Seth Meyers.
"They're making like going to the polls, you feel like you're going up to the new hot club and hoping your name is on the list," she quipped. "It's awful."
Sykes also revealed how the current political climate inspired the name of her new tour, "Oh Well."
"It feels like that is the mode of the country right now," she said. "Whatever happens, everyone's like, 'Oh well.'"
Check out the clip above.




Source HuffPost