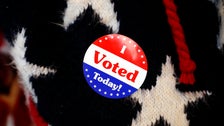 Election day is here ― and so are the polling place headaches.
From long wait times to voters finding their polling sites closed, people across the country have reported issues while trying to cast their ballots on Tuesday.
Here are some of the issues and how you can report a polling place problem if you experience one.
Broken machines:
Broken machines have been reported at a number of polling sites across the country, leading to reports of long lines as voters switched to paper ballots.
Such issues were reported outside Atlanta, Georgia, in Gwinnett County, where people were seen waiting for several hours to vote.
In New York City, voters also complained of broken machines and scanners at multiple polling sites in Queens and Brooklyn. Some voters said they were instructed to submit paper ballots.
Tech issues were also reported in Arizona, where people reported waits of over an hour.
Locations changed:
Some voters looking to cast their ballots early Tuesday morning instead found their designated polling sites unexpectedly closed or relocated.
Polling centers locked:
In New York City, one Twitter user shared a video of firefighters working to open a locked polling station in Brooklyn. That location ended up opening late because of "a key programming error," according to the city's Board of Elections.
In another bizarre event, voters outside Phoenix reported to a polling center in Chandler that had been unexpectedly foreclosed on overnight. The building's owner locked the doors with the voting equipment inside, AZ Central reported.
A photo posted online showed a letter of notice attached to the front door.
After sending some voters to Chandler City Hall, which also reported voting issues with its printers, the foreclosed location reopened.
Voting machines missing: 
In Detroit, voters were turned away from a designated polling station because it was missing voting machines, WXYZ reported.
That polling place, Martin Luther King Jr. High School, reportedly recovered the lost machines in a locked closet and was working to reopen the site. 
Humidity:
As if polling centers being foreclosed on wasn't weird enough, one location in North Carolina reported issues casting ballots because of the humidity.
The damp weather reportedly made it difficult for ballots to be fed through machines in Wake County precincts, CNN reported.
The state board assured that all of the ballots will be counted.
Journalists harassed:
In Pennsylvania, a reporter for Vice News said she was yelled at as "fake news" and saw one person outside a polling station spit on a local news vehicle.




Source HuffPost