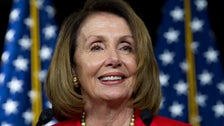 WASHINGTON ― Even if Democrats win the House this November, Minority Leader Nancy Pelosi (D-Calif.) might still lose.
She's a lock for re-election in her own liberal San Francisco district, which has sent her to Congress over the last 32 years. But the real test for Pelosi will come when Democrats choose a leader for the 116th Congress ― either a speaker if they take back the House or a minority leader if they don't.
In a new podcast episode of "The Wave," HuffPost explores how Pelosi is facing the most serious leadership challenge of her 16-year tenure as the top Democrat in the House. We also look at how Democratic candidates are navigating questions about Pelosi.
Since 2010, Republicans have conducted an orchestrated campaign to weaponize Pelosi, demonizing her as a California liberal and casting Democratic candidates across the country as mere tools for her agenda.
In this episode, we talk to former Republican National Committee communications director Doug Heye, one of the architects of the 2010 campaign to "Fire Pelosi." We also examine the race between Democratic Rep. Conor Lamb and Republican Rep. Keith Rothfus in Pennsylvania's 17th Congressional District. (The two are going against each other after Pennsylvania's old congressional map was thrown out for partisan gerrymandering.)
Lamb, who sat down for an interview with HuffPost, discussed his opposition to Pelosi, saying that his criticism has nothing to do with her personally, "and everything to do with the fact that, when someone's been in charge of an organization for a long time, whether it's the United States Congress, or a Marine infantry battalion, or a small company, if they are not achieving the results year over year that you want, it's time for a change in leadership, it's time to refresh things."
Lamb is far from alone. According to The Washington Post, 87 non-incumbent Democrats have at least side-stepped questions about Pelosi. Of those Democrats, many won't win, and those who do could still support Pelosi. The number of Democrats who have emphatically said they won't support Pelosi for speaker during a floor vote is much smaller ― closer to two or three dozen, depending on how much wiggle room you're prepared to give these candidates in their statements.
But unless House Democrats take back the majority with a couple dozen seats to spare, maybe even more, Pelosi could face real problems. Politico reporter Heather Caygle, who's been closely following Pelosi's potential math problem, says any election outcome that flips less than 40 seats is a potential threat to the congresswoman.
However, Pelosi's deputy chief of staff, longtime staffer Drew Hammill, thinks her pathway is much safer. Hammill says he sees a "sliding scale" in which the greater number of anti-Pelosi Democrats that make it to the House, the greater the margin for a Democratic majority.  
Hammill's theory rests on the knowledge that many of the most emphatic anti-Pelosi Democrats are from the tougher districts to win, so if Democrats take those seats, he expects a sizable wave.
But if Democrats don't take back the House or if their majority margin is slim, Pelosi could be in real trouble, even though she seems to be less of a concern for voters these days.
Despite consistent GOP messaging against Pelosi, she doesn't rank highly as an issue voters care about. A CNN poll in August put her last in a list of 10 topics that respondents said were important factors in their votes. And voters are showing some fatigue with Republicans' constant mentions of Pelosi.
During a debate this week, Rep. Dave Brat (R-Va.) brought up Pelosi 21 times. Eventually, the audience began groaning every time Brat mentioned her. And when Brat's Democratic opponent, Abigail Spanberger, countered that Brat seemed to be confused about whom he was running against, she got the biggest applause of the night.




Source HuffPost