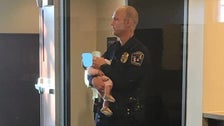 A Utah police officer is being hailed as a hero for the way he helped out a woman trying to file a domestic violence report.
The woman showed up at the West Jordan Police Department earlier this month with three small children in tow, wanting to file a report of domestic violence.
Filing a domestic abuse report can take time, which can be a challenge for victims, even when they don't have children in hand.
Luckily, Officer Robert Lofgran was on the job and gladly watched the three children, all under the age of 5, while the woman talked to a victim advocate and filled out paperwork for several hours, according to CNN.
The department shared photos of Lofgran stepping in to babysit on its Facebook page. The photos struck a chord, drawing more than 500 comments praising the caring officer.
However, Sgt. Alex Earelli said Lofgran is not alone in his willingness to step in where needed.
"I wouldn't say it's every single day, but it's often where officers do step in to try and help out with providing any type of resource so the parents or the victims can get assistance," he told CTV News.


Source HuffPost