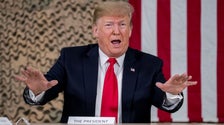 Part of the problem is that Trump did not visit a combat zone during his first two years in office ― something his predecessors did as a matter of course.
No wonder some Twitter users suspected that "doing the right thing for the troops" was far down on Trump's list of reasons to make the trip to Iraq.
Others suspected ulterior motives behind the visit.
Some imagined how Trump interacted with the troops.
Others had questions about Melania.
At least one person saw a potentially positive outcome.




Source HuffPost