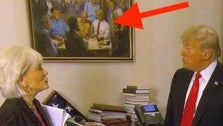 President Donald Trump has an unusual portrait hanging in the White House. 
Now on 60 Minutes: There's less than a month until the mid-term elections. Hear what President Trump has to say about some of the issues that will likely be motivating voters at the ballot. pic.twitter.com/4WYnh3t0hy

— 60 Minutes (@60Minutes) October 14, 2018
The portrait is one of a number of presidential images created by Andy Thomas, who has painted both Democrats and Republicans. He told Time earlier this year that he considers himself an independent who supported both Reagan and former President Bill Clinton. 
Thomas said Trump was "outside the norm," which made him an interesting subject: 
"Is he going to end up going in history as a great Republican or an abnormality or something? So it's interesting. I just put him at the table, more or less the center of attention. We'll let history decide. Or let the people decide. It's not up to me."
Thomas told The Daily Beast that Rep. Darrell Issa (R-Calif.) gave the portrait to Trump. The president later made a "real gracious call" to say how much he liked the portrait.
Hang it next to the velvet Elvis and dogs playing poker — at least until the spirits of the dead presidents burn Trumps face off the canvas.

— Heidi Bailey🇨🇦 (@DOTsGtGrandbaby) October 15, 2018
Read This: "Trump Hangs 'Tacky' Fantasy Painting of Himself With GOP Presidents in White House"
This remind me the dogs paying poker. https://t.co/zy0Bj9Aj5g

— Denise Wu (@denisewu) October 15, 2018
Trump's version of the painting of dogs playing poker. Where's the velvet Elvis?

— DB (@DbDant) October 15, 2018
The "Dogs Playing Poker" painting is on the opposite wall.
Only the bulldog slipping the ace to another dog has been replaced by Trump. https://t.co/idCG61lqN7

— Gary Miereanu (@SuperPRGuy) October 15, 2018
The dogs wouldn't let Trump join their poker game.

— Bob Ballentine rebel scum (@raballentine1) October 15, 2018
"It's . . . it's one of those poker-playing dogs paintings but . . . but the dogs are . . . Republican presidents! Nixon's laughing! And Trump . . . Trump looks like he just farted!"

"Girl!" pic.twitter.com/mHsY0tRstB

— MyTwoWheats ❄ (@MyTwoWheats) October 15, 2018




Source HuffPost