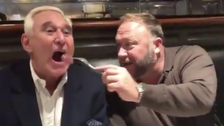 A bizarre tweet that shows Roger Stone and Alex Jones eating in a restaurant suggests more than anything that the two conspiracy peddlers are hungry for attention.
A video posted Friday shows Jones feeding steak to Stone like a parent might feed a little kid.
Jones introduced the segment like this: "Ladies and gentleman: real Russian collusion. Alex Jones helicopters Roger Stone." 
After Stone ate a piece of steak from Jones' fork, Jones said, "Vladimir Putin delivered it!"
HuffPost reached out to the person credited with posting the video to find out more details about it. That person did not immediately respond.
In addition, neither Stone nor Jones have commented on the video, so it's hard to figure out where it was happening or what it means (other than an obvious cry for attention).
Some Twitter users offered theories.
Some people had questions. Lots of questions.
Others were just freaked out.
One woman just wanted it to stop, please stop, for the love of all that is good and holy.




Source HuffPost