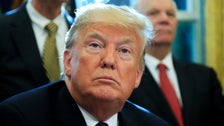 We condemn the attempted attacks against fmr Pres Obama, the Clintons, @CNN & others. These cowardly actions are despicable & have no place in this Country. Grateful for swift response of @SecretService, @FBI & local law enforcement. Those responsible will be brought to justice.

— Vice President Mike Pence (@VP) October 24, 2018
As for the president? He chose to simply retweet Pence's tweet, with a brief comment.
Many Twitter users found Trump's retweet a sign that he lacks character (or since this is Twitter, "characters").
1. You couldn't even stomach typing out the 280 characters yourself.
2. You and your cohorts have advocated violence since the earliest days of your campaign.
3. We are going to bring an end to your despicable regime. That begins Nov. 6.

— Beau Willimon (@BeauWillimon) October 24, 2018
In times like these, we need a real leader–not a person who dittoes what someone else said. Trump's form of leadership is leading chants against political foes and inciting attacks on the media.

— Juliann🇺🇸🇪🇸 (@JuliannAndreen) October 24, 2018
This is not to be dismissed as the act of a deranged lunatic. This is the logical chain of events when a corrupt leader works his crowds into a frenzy, chanting "Lock her up!" and calls the press the "enemy of the people".

Impeach.

— Bill Taverner (@billtaverner) October 24, 2018
The president of the United States is completely and totally responsible for this with your chants of lock her up and calling journalists "the enemy of the people." So, please spare us your wholehearted agreement.

— Lnda Watt (@WattLnda) October 24, 2018
But you should have been the one to show leadership here, not Pence. Major fail.

— John Hoopes (@jwhoopes2) October 24, 2018




Source HuffPost