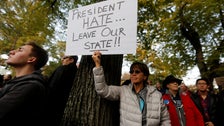 In a tweet, Trump also suggested that he was the victim, calling news reports about the protests "disgraceful" and claiming that the "small protest was not seen by us, staged far away."
Thousands of Pittsburghers packed the streets of Squirrel Hill, the city's traditionally Jewish neighborhood where the shooting took place. Many held signs and banners referring to Trump's divisiveness and embrace of white nationalism.
Progressive Jewish organization Bend the Arc organized one of the protests against the president's visit. On Sunday, Pittsburgh leaders of the group had published an open letter urging Trump not to visit "until you fully denounce white nationalism," "stop targeting and endangering all minorities," "cease your assault on immigrants and refugees," and "commit yourself to compassionate, democratic policies that recognize the dignity of all of us."
Congressional leaders of both parties, the state's two U.S. senators, Pittsburgh Mayor Bill Peduto (D) and Pennsylvania Gov. Tom Wolf (D), all did not join Trump during his visit.
Peduto had urged Trump to postpone, arguing that the visit would take away attention and resources from the victims and their families and should not occur "while we are burying the dead."
But Trump came anyway, on the same day as the first funerals for the victims. On Tuesday, loved ones and community members held memorial services for brothers Cecil and David Rosenthal and for Dr. Jerry Rabinowitz.




Source HuffPost