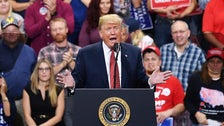 President Donald Trump assailed sexual assault survivors who have protested senators weighing the sexual assault allegations against Supreme Court nominee Brett Kavanaugh as "very rude elevator screamers," falsely claiming that they are being paid by Democratic fundraiser George Soros and other groups.
Trump's Friday morning tweet perpetuated a right-wing conspiracy theory that protesters are paid actors and set up by Democrats.
Last week, sexual assault survivors confronted Sen. Jeff Flake (R-Ariz.) in a Senate elevator. Flake, a key swing-vote senator on Kavanaugh's nomination, credited them with helping to convince him to call for an FBI investigation in the claims against Kavanaugh.
Other protesters have confronted senators at airports, and on Thursday, hundreds marched in Washington at the Supreme Court and on Capitol Hill.




Source HuffPost