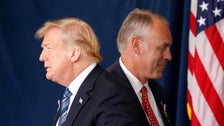 Interior Secretary Ryan Zinke, echoing an already disputed White House claim, said Tuesday that the dire conclusions in the latest federal climate assessment are based on worst-case scenarios.
Zinke told KCRA News in Sacramento, California, that the Trump administration is "looking at the report and there's some concern within the [U.S. Geological Survey]," which he described as "our nation's top scientific body."
"It appears ― and again, we're looking at it closely, I have a brief when I get back ― it appears they took the worst scenarios and they built predictions upon that," he said of the report's authors. "It should be more probability. But we're looking at it."
It's unclear who, if anyone, at USGS has expressed concern about the report or its findings. The Interior Department and the USGS did not respond to requests for comment.
The 1,600-page document was issued by 13 federal agencies, including the Interior Department, and authored by more than 300 researchers. In a move that many saw as the administration's attempt to bury the findings, the report was released on Black Friday, the day after Thanksgiving. It finds that the United States has already warmed on average 1.8 degrees Fahrenheit over the past century, and without drastic emissions reductions, it will warm at least 3 more degrees ― and perhaps as much as 9 degrees or more ― by 2100. 
Zinke's comments echoed the message coming from the White House, which has worked to downplay the sobering consensus among federal scientists that climate change is driven by human activity, that it's already impacting communities across the country and that it will bring on catastrophic effects unless immediate action is taken to rein in greenhouse gas emissions.
Over the weekend, a White House spokeswoman said the report is "largely based on the most extreme scenario, which contradicts long-established trends by assuming that, despite strong economic growth that would increase greenhouse gas emissions, there would be limited technology and innovation, and a rapidly expanding population." The next assessment, which is due out in 2022, will "provide for a more transparent and data-driven process," she said.
Katharine Hayhoe, a co-author of the current assessment and director of the Climate Science Center at Texas Tech University, said in a Friday tweet that the White House's claim is "demonstrably false."
"I wrote the climate scenarios chapter myself so I can confirm it considers ALL scenarios, from those where we go carbon negative before end of century to those where carbon emissions continue to rise," she wrote.
Hayhoe tweeted again on Tuesday to "set the record straight" about a number of statements made since the report's release. Those included the White House's comments and a claim by Rick Santorum, the failed Republican presidential candidate, that the authors were "driven by money."
Speaking to reporters outside the White House on Monday, President Donald Trump simply rejected the science. "I don't believe it," he said of his administration's report, adding that "we're the cleanest we've ever been." 




Source HuffPost