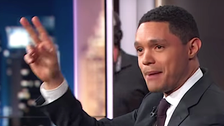 The 2016 presidential election was like a contest for control of an airplane's cockpit, says Trevor Noah.
"The Daily Show" host said in a behind-the-scenes bit released Wednesday that President Barack Obama had been like "swaggy pilot" who had "everything under control."
"Obama spoiled a lot of people because of how competent he was," Noah joked. 
Democratic candidate Hillary Clinton had been practicing her whole life to pilot the aircraft, while Republican Donald Trump was "some drunk dude" who just stood up and boasted about flying the plane "so fast, so far, so fast." 
"And people were like, 'Yeah! That's what this plane needs ― someone who has never flown before,'" Noah said. 




Source HuffPost